Midlands Spring Itinerary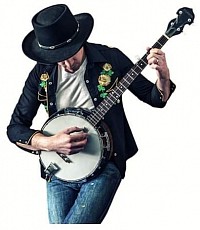 Thursday.. Picking sessions 

Friday 7 pm Slow jam with Carlo & Old-time with Merrion 
Saturday 7 pm Scratch Bands Draw & Raffle
Sunday Morning Gospel Session 
Sunday  Evening Survivors session
Scratch Bands.

Enter the Saturday evening scratch bands and your band could win £50.00 Cash
Each band to perform 3 Bluegrass/Oldtime songs or tunes then at the end of the performances the name of a band will be drawn to find the winner of the £50.00 prize.
No judgements, just play and your in the draw. (limited places)
Scratch band Rules.

Must be two or more People in a band.
Must perform 3 Bluegrass/Oldtime songs or tunes
All participants must be weekend ticket holders.
...Remember these picking weekends are all about you ..the player... watching, learning and playing with others will hopefully improve your skills.. no matter what your skill set picking weekends are primarily about you the player.
Click here for  Online Ticket Sales